Homestead Salad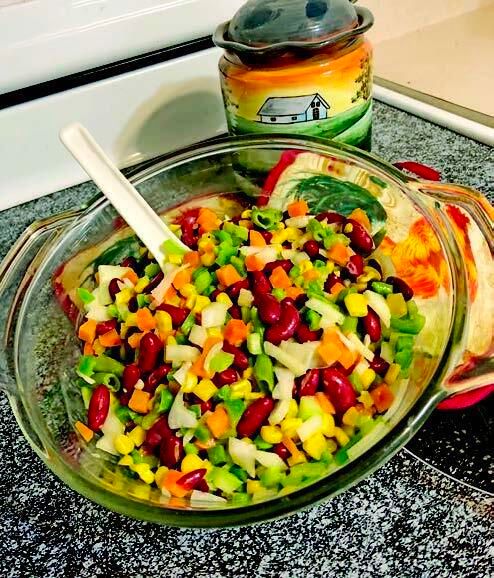 Years ago, my sister brought this dish to a family gathering, and it became my favorite side. Knowing this, she has kindly made it for many gatherings since then, and I have even tried my hand at it. Turns out, even a notoriously bad cook such as myself can manage it. My favorite thing about this dish is that it stays good for at least 5-7 days. So, when all the other leftovers have been eaten or need to be thrown away, the homestead salad patiently waits to be rediscovered in the back of the fridge and enjoyed. I've never had to throw these leftovers out!
Be sure to make this ahead of time, as it needs to sit for the flavors to mellow and meld. I made it the morning of a meal once, and, after a taste, put it right back in the fridge instead of serving it. Hope you like it as much as I do, and, if you need help eating up the leftovers, I'll be glad to help!

Ingredients 
1 10-ounce package frozen mixed vegetables (the one with corn, peas, beans, carrots)
1 17-ounce can of red kidney beans, drained and rinsed
1 cup diced celery
½ cup diced onion
½ cup chopped green pepper

Sauce 
¾ cup sugar mixed with 1 tablespoon flour
½ cup vinegar
1 tablespoon mustard

Instructions 
Combine sugar, flour, vinegar and mustard. Cook over medium heat, stirring constantly until clear and thick. (Thickening seems to take forever, and my sister and I confess to giving up before it reaches our definition of "clear and thick.") Let cool.
Cook frozen vegetables according to package directions. Drain and set aside to cool. Rinse kidney beans and drain well. Combine celery, onion, pepper, cooled mixed vegetables and drained red kidney beans.
Add dressing, mix and refrigerate, stirring occasionally. Best after a day. Keeps well for 5-7 days or longer.