Spooky snacks that make Halloween pop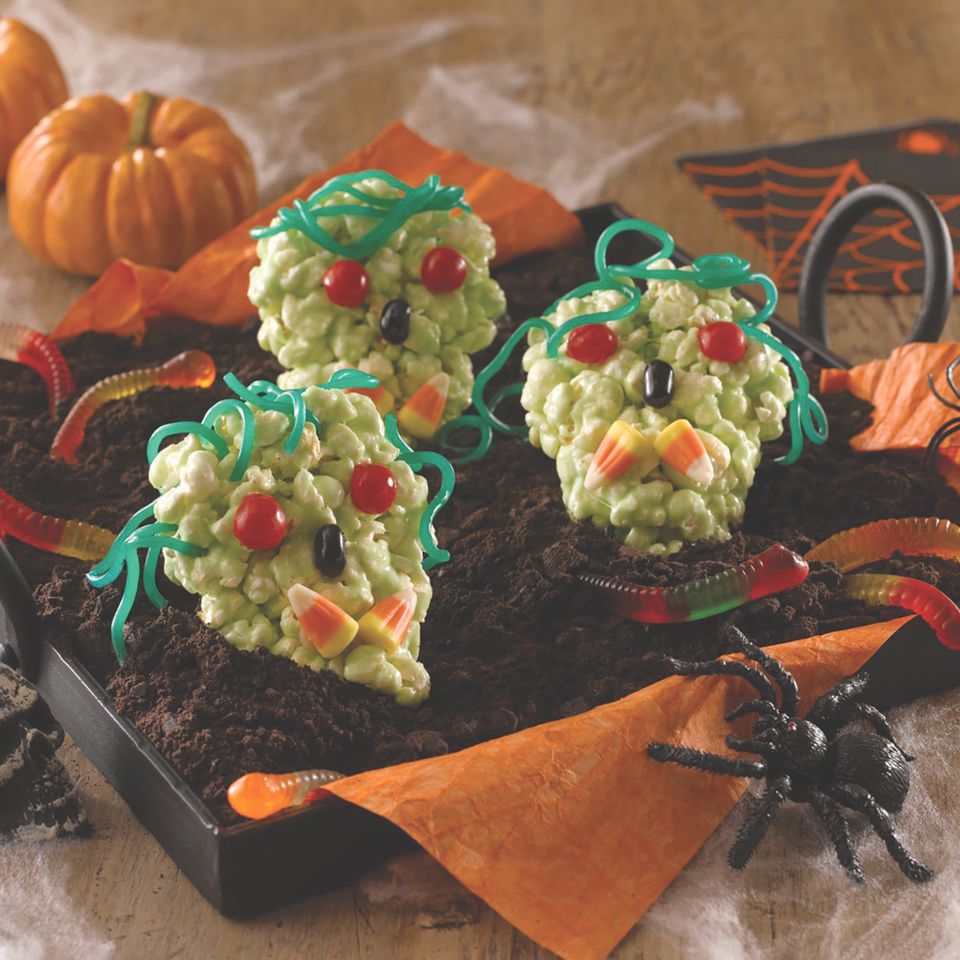 (Family Features) From watching scary movies to dressing up as ghouls and goblins, spooky season means it's time to pop up your loved ones' favorite snacks for a ghostly good time. Before heading out to trick-or-treat, gather your minions in the kitchen for some family-friendly fun crafting these haunting yet tasty treats.

Green Halloween Zombies 
Yield: about 7 pieces
• 2 1/2 quarts popped popcorn
• 6 tablespoons butter or margarine
• 3 cups mini marshmallows
• 4 tablespoons lime gelatin powder
• red gum balls
• candy corn
• flat green candy strips or fruit leather
• green sugar sprinkles

Directions
Place popcorn in large bowl; set aside.
In medium saucepan over medium heat, melt butter. Stir marshmallows into butter until melted. Stir in gelatin powder until evenly colored.
Pour melted mixture over popcorn and stir until evenly coated. With buttered hands, shape popcorn into seven ovals.
Flatten one oval slightly and squeeze one end to form "skull" shape. Place on parchment-lined baking sheet. Repeat with remaining ovals.
To decorate: Press two gumballs into each skull to form "eyes."  Press candy corn into skull to form "teeth." Use scissors to trim candy strips and press into top for "hair." Sprinkle with sugar sprinkles.
Allow "zombies" to set about 20 minutes before wrapping individually in plastic wrap or serve immediately.

Popcorn Caramel Apples 
Yield: about 7 pieces
• 1 quart freshly popped popcorn
• 1 package (9 1/2 ounces, 35 total) caramels, unwrapped
• 1/4 cup light cream or half-and-half
• 4 lollipop sticks or wooden candy apple sticks
• 4 apples
• 1/2 cup chocolate chips
• sugar sprinkles
• decorative ribbon (optional)

Directions
Place popcorn in large bowl; set aside. Place sheet of waxed paper on work surface.
In small saucepan over medium-low heat, heat caramels and cream.  Stir frequently until caramels are melted and cream is blended into caramels.
Push one stick into apple center and dip into caramel. Spoon caramel over apple to coat. Repeat with remaining apples
Place caramel-coated apple in bowl of popcorn and press popcorn onto caramel to cover. Place apple on waxed paper to set; repeat with remaining apples.
In small, resealable plastic bag, microwave chocolate chips 10 seconds and press chips to aid melting. Repeat, heating at 10-second intervals, until chips are completely melted. Cut small corner off bag and squeeze chocolate onto each apple, allowing chocolate to drip down sides. Sprinkle with sugar sprinkles.
Tie bow to each apple stick, if desired. To serve, cut apples into slices.