For many of us, state fairs are the highlight of summer. Free live concerts, crazy competitions, carnival rides galore and deep fried EVERYTHING. While all state fairs are always great fun, not all of them are created equally. Read on for the top 20 that we think rise above the rest.
Kentucky State Fair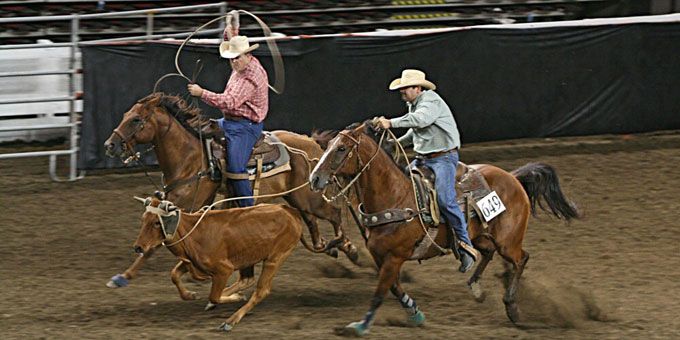 By Heather Moreton from Louisville, KY, USA [CC BY 2.0], via Wikimedia Commons
August 20-30, Louisville, KY
Kentucky is known for its state fair. From the incredible horse shows, Gourmet Garden chef demonstrations and live music from popular artists like Meghan Trainor, Eric Paslay, Aretha Franklin and the Oak Ridge Boys, what's not to love? The Kentucky State Fair first started more than 100 years ago with trick bears, award-winning horses and the Parade of Champions and it's still going strong with more than 500,000 people in attendance in 2014.
The Great New York State Fair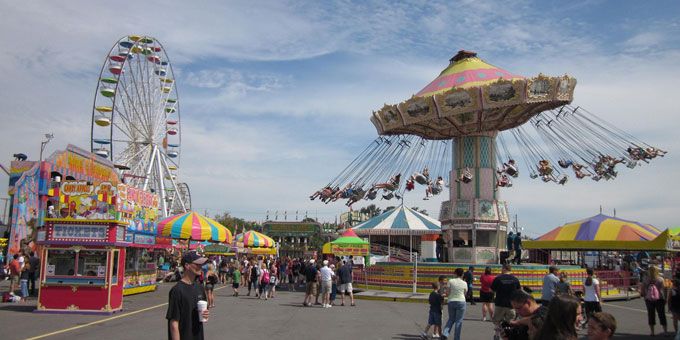 Photo courtesy of Doug Kerr / CC BY-SA 2.0
August 27-September 7, Syracuse, NY
Almost one million people attend the Great New York State Fair every year and there are plenty of exciting activities that the whole family can enjoy. The New York State Fair is America's oldest, featuring dozens of fun competitions, live music from Eric Church, Everclear, Buckcherry and others, the popular NY Wine & Cheese Seminars and a celebrity milking contest in honor of the state's official beverage: milk.
State Fair of Texas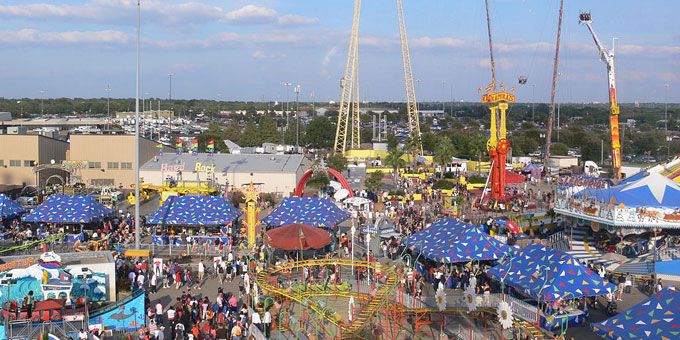 By Photo: Andreas Praefcke (Own work (own photograph)) [GFDL or CC BY 3.0], via Wikimedia Commons
September 25-October 18, Dallas, TX
The Texas State Fair is well known for debuting some of the most delicious deep fried foods. Year after year, the craziest fried foods are introduced to the public, like deep fried milk and cookies on a stick, fried pumpkin spice oreo, fried chocolate maple bacon amazeballz and deep fried sweet tea. Not to mention the larger-than-life carnival rides that the kids will love.
Iowa State Fair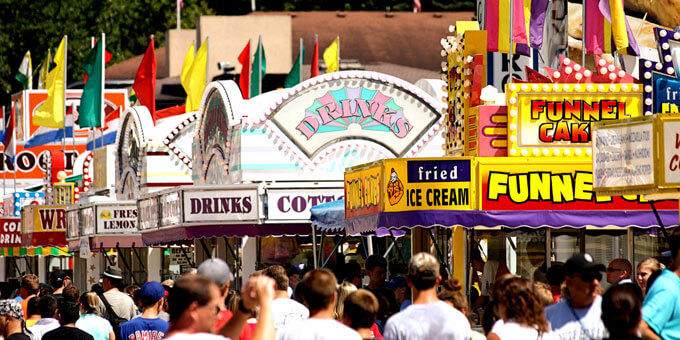 Photo courtesy of Phil Roeder / CC BY 2.0
August 13-23, Des Moines, IA
Regulars to the Iowa State Fair know to look for the life-size butter cow every year. The 600 lb. cow made with pure Iowa butter is recreated each year by a local sculptor to carry on a tradition that began way back in 1911. As is state fair tradition, the Iowa fair offers more than 70 different varieties of food on a stick. New items to be featured this year include apple pie on a stick and golden fried peanut butter and jelly on a stick.
Minnesota State Fair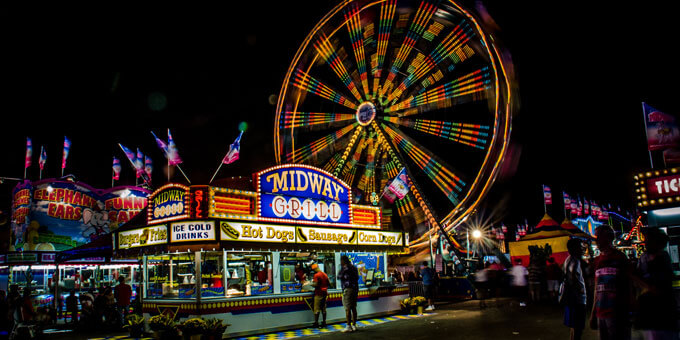 Photo courtesy of m01229 / CC BY 2.0
August 27-September 7, St. Paul, MN
The Minnesota State Fair is no joke, with dozens of activities like the River Raft Ride, Butterfly House and Adventure Park, which features a climbing wall, sling shot, turbo bungy and more. The entertainment is unparalleled with the live theatre Arts A'Fair, a nightly colorful laser show choreographed to music, championship horses performing in the coliseum and of course, live music from Keith Urban, Carrie Underwood and Def Leppard, among others.
Alaska State Fair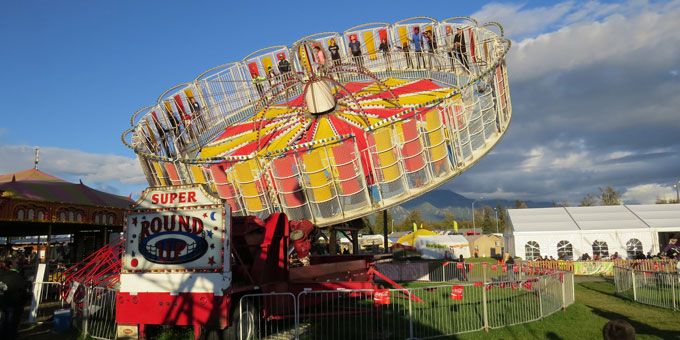 Photo courtesy of Luke Jones / CC BY 2.0
August 27-September 7, Palmer, AK
Alaska's state fair features great live concerts from award-winning artists like Skillet, Daughtry, 3 Doors Down, Lee Brice and hilarious comedian Jim Gaffigan. Popular radio host Garrison Keillor's America The Beautiful Tour highlighting 41 years of radio history is much anticipated this year as well. And as always, the giant vegetable competitions are known to be a hoot. Some of the previous winners include a 138-lb. cabbage, a 39-lb. piece of broccoli and an 18-lb. carrot. Crazy, right?
Washington State Fair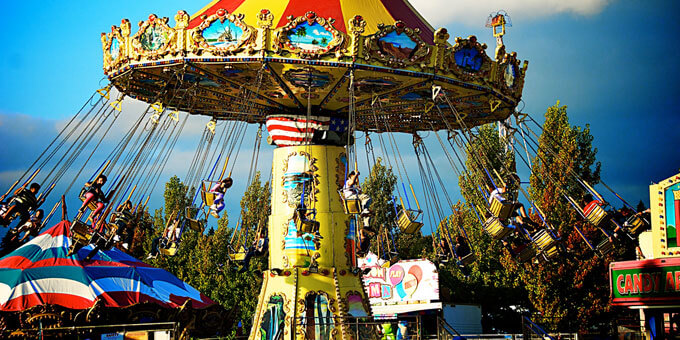 Photo courtesy of Attila Siha / CC BY-NC 2.0
September 11-27, Puyallup, WA
The Washington State Fair, previously known as the Puyallup Fair, draws more than one million visitors every year and is commonly revered as one of the top state fairs in the country. The fair's Grandstand stage consistently hosts big name artists and this year's performances feature Pitbull, Iggy Azalea, Jake Owen and more. As far as food goes, the scones drowned in honey butter and raspberry jam are a foodie favorite here, and this year, the infamous Dole Whip will be served at the Duris Elephant Ears' pavilion location.
Ohio State Fair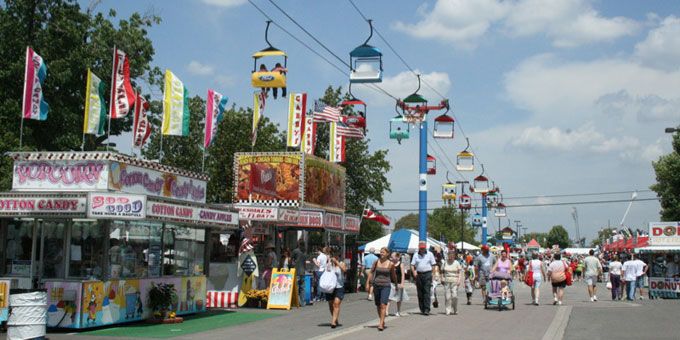 Photo courtesy of Eve Hermann / CC BY-SA 2.0
July 29-August 9, Columbus, OH
Tons of free daily attractions bring scores of visitors out to the Ohio State Fair every year. The Bass Bin fishing demonstration is great for kids and first-timers, the Natural Resources Park offers free fishing, kayaking, archery, free music and live shows, and the brand new Zombie Acres gives state fair goers the chance to protect Ohio from a zombie invasion. Guests can find just about everything at the Ohio State Fair; from Zumba fitness classes and beekeeping shows to beard and tattoo competitions, deep fried candy bars and horticulture and floriculture competitions.
Oregon State Fair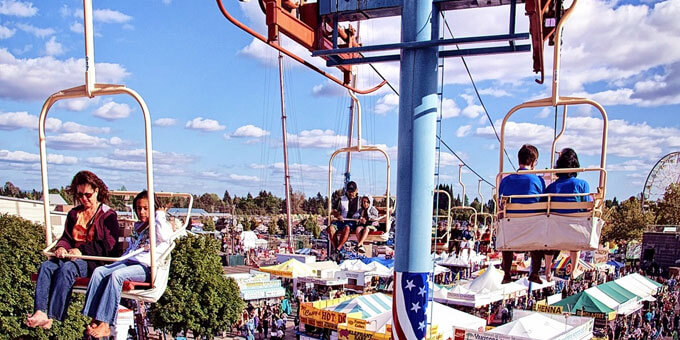 Photo courtesy of PhotoAtelier / CC BY 2.0
August 28-September 7, Salem, OR
Carnival rides and fried foods don't take centerstage at the Oregon State Fair (although you definitely don't have to look very hard to find them). This western state is all about the agriculture, with garden and floral exhibits, plenty of homegrown produce and a farmers' market that's teeming with fresh goods; all great motivation for the hundreds of thousands of attendants that come out every year.
North Carolina State Fair
"NC State Fair" by Justin Doub from Raleigh, NC, USA – NC State Fair. Licensed under CC BY 2.0 via Wikimedia Commons.
October 15-25, Raleigh, NC
Experience North Carolina's musical heritage at the Folk Festival, learn all about the state's diverse livestock population at the State Fair Ark or ooh and ahh at the stunning fireworks show, a tradition that goes all the way back to the mid 1900s. The North Carolina State Fair attracts almost one million visitors each year and consistently offers great family entertainment alongside historic exhibits that honor the traditional beginnings of the popular statewide event.
The Big E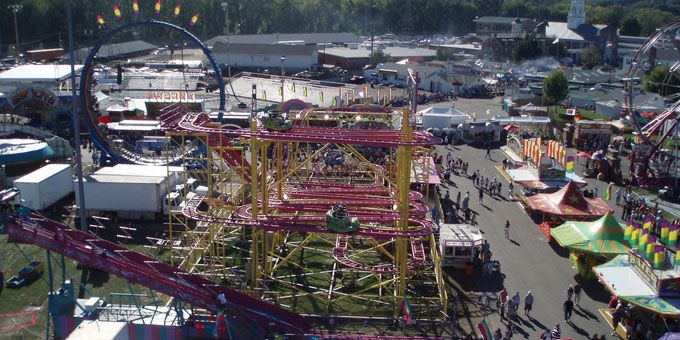 "Big E fair" by Jeremy Goldstein – Flickr: Aerial view 3. Licensed under CC BY 2.0 via Wikimedia Commons.
September 18- October 4, West Springfield, MA
The Big E is one of the biggest events on the east coast and it drew a record number of people out last year with 1,498,605 attendants. The Big E is full of big fun, with a daily Mardi Gras parade, an incredible circus the kids will love and a charming 19th-century village, populated by characters dressed in authentic garb and giving guided tours. The food at the Big E, on the other hand, is to die for. On top of your typical fried fare, you'll enjoy a variety of favorites like key lime pie on a stick, Big E Cream Puffs, eclairs and more mouthwatering flavors.
Indiana State Fair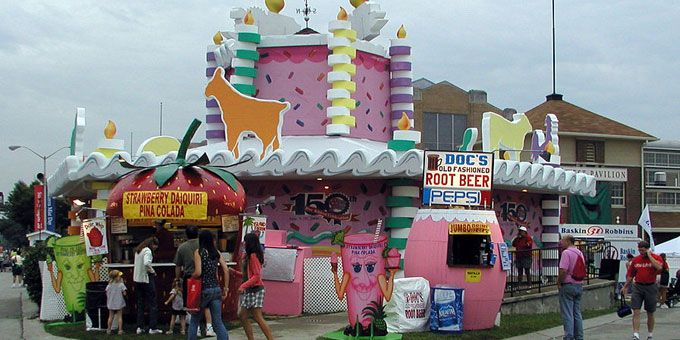 Durin at en.wikipedia [GFDL or CC-BY-SA-3.0], via Wikimedia Commons
August 7-23, Indianapolis, IN
2015 is the Year of the Farmer at the Indiana State Fair, honoring their hard work and impact on the state. The fair celebrates agriculture, youth and education with competitions featuring 4-H livestock, talented young musicians, delicious food creations, the fantastic work of local artists and more. The Indiana State Fair organizers even call attendants to action with a Farmers Care food drive to meet local hunger needs in the state.
Missouri State Fair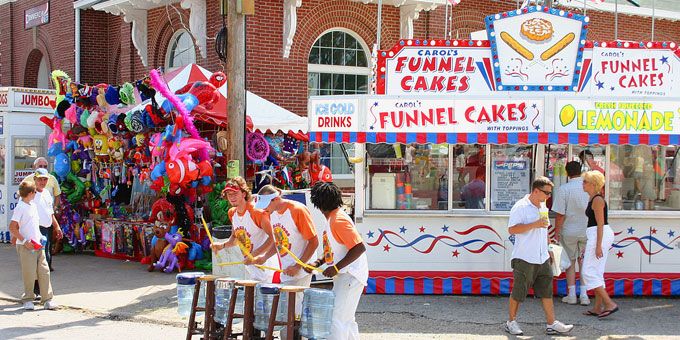 By Beth Felice (originally posted to Flickr as fair1) [CC BY-SA 2.0], via Wikimedia Commons
August 13-23, Sedalia, MO
The Missouri State Fair attracts hundreds of thousands of guests every year, and many of them bring a fierce spirit of friendly competition with them. Missouri's State Fair has always been a competitive one, even way back to the very first one in 1901 which featured a livestock exhibition and jockey horse races. Today, competitive livestock exhibitions, truck and tractor pulling races, baking competitions, art exhibitions and even robotics competitions are just a taste of the Missouri State Fair. Endless family-friendly entertainment, free concerts and delicious deep fried favorites make it a popular summer event.
California State Fair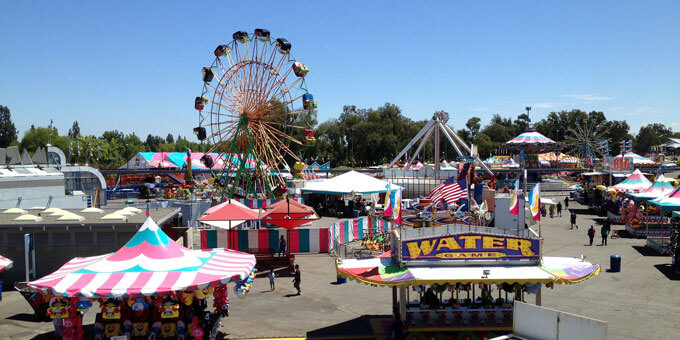 Photo courtesy of Ray Bouknight / CC BY 2.0
July 10-26, Sacramento, CA
Being so close to Napa Valley, visitors have to expect ample opportunity for fantastic wine and beer tastings at the California State Fair. But the California Brewfest is just the tip of the iceberg. Live horse races, a kid-friendly water park and a variety of exhibits are eye-opening and cultural. Visit the science fiction-y Tech Trek to learn about scientific discoveries, watch cooking demos at the California's Kitchen exhibit, explore the diverse California Counties exhibit and be amazed by the Global Winter Wonderland Dragon Lantern Display.
Illinois State Fair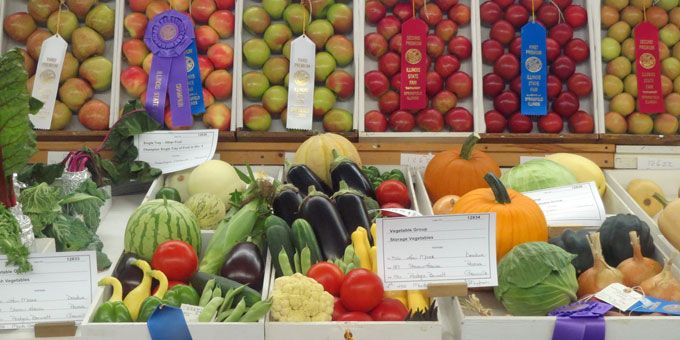 Photo courtesy of benjamin sTone / CC BY-NC-SA 2.0
August 13-23, Springfield, IL
Hundreds of thousands of people come out to the Illinois State Fair annually to enjoy the promising grandstand concerts and a broad range of events and entertainment. The Ethnic Village is a draw for many, featuring cuisine specialties from 15 different nationalities as well as two international beer booths. The heartland also proves to be popular, showcasing the Illinois Department of Agriculture, the Farmers' Market, a special play area for little ones and antique farm equipment on display.
Wisconsin State Fair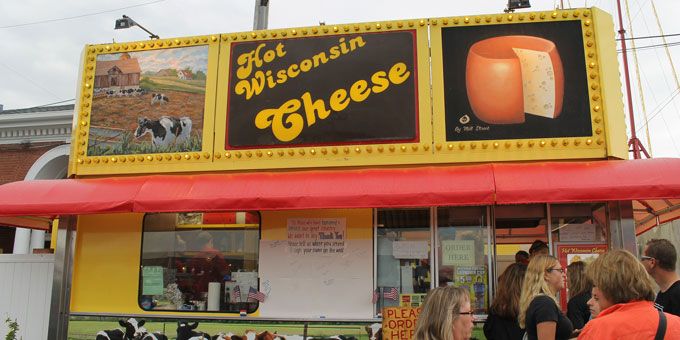 Photo courtesy of Connie Ma / CC BY-SA 2.0
August 6-16, West Allis, WI
Choose from hundreds of mouthwatering foods at the Wisconsin State Fair, and see why Wisconsinites are so proud of their innovative dishes. Dig into the Caribbean crepes, peanut butter bacon bison burgers, deep fried maple bacon cookie dough and of course, the deep fried cheese curds in Wisconsin are a must. But the more than one million visitors that attend the fair every year aren't just there for the food — the Giant Slide, Super Nova Roller Coaster and New York, New York Funhouse are just a few of the exciting attractions offered.
Colorado State Fair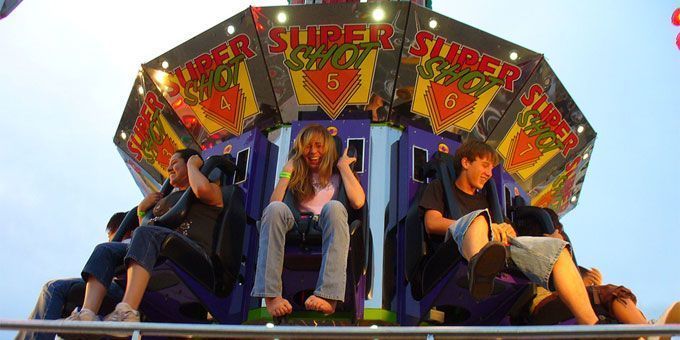 Photo courtesy of Steve Doria / CC BY-NC-SA 2.0
August 28-September 7, Pueblo, CO
The Colorado State Fair was born in Pueblo in 1869 and is the largest summer event in the entire state. The rodeo is a huge part of Colorado's state fair, highlighting America's western history with action-packed bullfights, team roping, bronc riding and more. Visitors also come out for the fun livestock, horse and small animals shows starring some of the state's most treasured creatures.
Georgia State Fair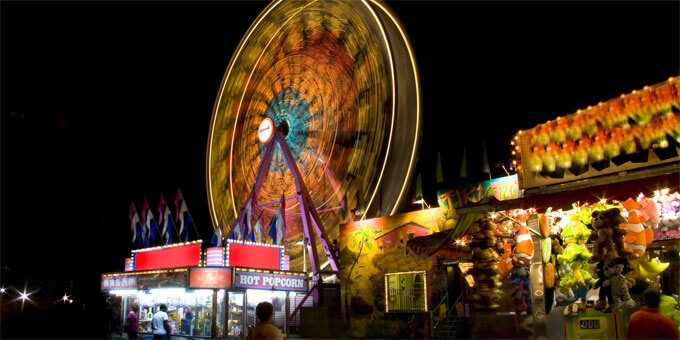 October 2-11, Hampton, GA
The Georgia State Fair is held at the Atlanta Motor Speedway and has a long, 164-year history boasting incredible entertainment and activities. In the past, the fair was held in Macon, Georgia, but since it moved to its new location at the Speedway, attendance quadrupled. Just being at the Speedway makes for a fun time, but add in the live wolf encounter, monkey jockeys riding on the backs of racing dogs, a human freak show and Coronas Hollywood Circus and you've got the one-of-a-kind Georgia State Fair.
Arizona State Fair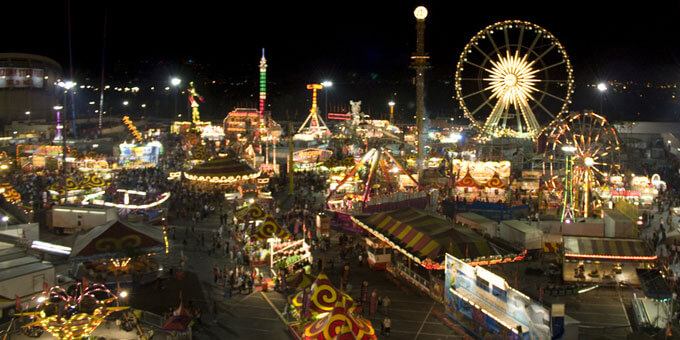 Photo courtesy of Eric G. / CC BY-NC 2.0
October 16- November 8, Phoenix, AZ
A southwestern flair is what makes the Arizona State Fair unique, featuring foods that represent the local flavors, vibrant fine arts and photography competitions and amazing free concerts. This year will be the 70th consecutive celebration of the Arizona State Fair and it's an event that regularly draws more than a million people out to Phoenix to be a part of it.
Oklahoma State Fair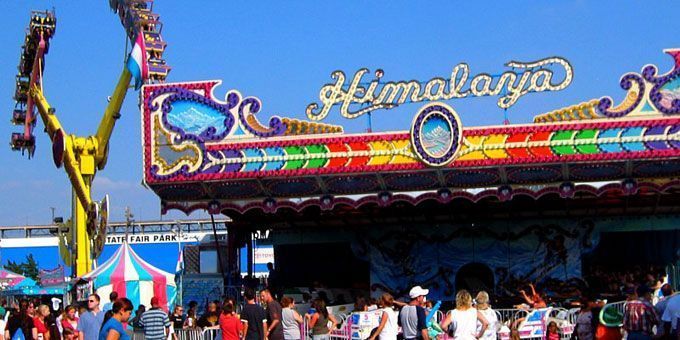 Photo courtesy of Allison Meier / CC BY-NC 2.0
September 17-27, Oklahoma City, OK
More than one million visitors are expected to come out to the Oklahoma State Fair this year, and we think the fact that Disney on Ice is presenting Frozen has a lot to do with that. Every year, the Oklahoma State Fair is spectacular, with endless savory and sweet food options, big name concerts, extreme bull riding and fun competitions (including an arm wrestling competition!). But the added bonus of seeing Frozen live on ice is pretty great, especially for those families with kids.
What do you love the most about your home state's fair? Have you been to any of these? Comment and share below!